Vivian (91) and Alice (90) were in love for more than seven decades. They have enjoyed being together all of those years and have done some serious travelling - most of the U.S, Canada and England (twice!) "We've had a good time" said Alice.

Keeping a relationship going for over 70 years takes lots of love and a lot of effort. Especially when the world frowns - and the law prohibits - such a relationship.

But now the law has caught up with the heart.

You might have your opinion for or against gay marriage - that's your business. The important thing is that these two wonderful ladies obviously fully agree with the principle - Age No Limit. As they say - it is never too late for a new chapter in life.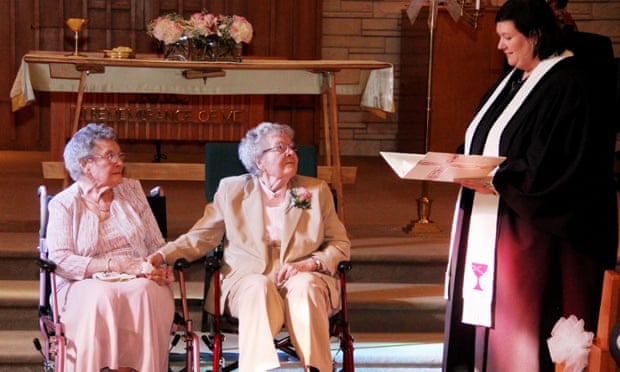 Reverend Linda Hunsaker presides over the wedding of Vivian Boyack, left, and Alice Dubes, center, in Davenport. Photograph: Thomas Geyer/AP
---
Links
Ninety-year-old gay couple marries in Iowa after 72 years together
Meet the two women who were finally able to marry after 72 years together
Couple who hid love for 72 years finally marry